The Piggy Bank Explained: A Simple Guide To Staking In The Animal Farm
T
he Piggy Bank is the newest addition to the Animal Farm and introduces not only a 3% daily ROI, but a time-lock bonus to your staking. In this post, I'll explain how it works.
---
Quick Nav
– This is not financial advice. Crypto is a volatile space. Do your homework please before taking any of my advice. I do not run a financial blog, but being a developer I love new technology, thus the post.
To learn about DRIP and how to get started there, please see my other post: Drip Crypto Explained: A Simple Guide To Investing in Drip.
Brand new to the Animal Farm? Check out my newly published guide: The Animal Farm Crypto Explained: A Simple Guide To Investing in the Animal Farm Ecosystem for more info there.
---
The Animal Farm Piggy Bank goes live tomorrow.
Do you know how it all works?
What's your game plan?
In this post, I want to explain exactly how the Piggy Bank will work, how you can take full advantage of its features, and even share my own strategy going into the launch.
Note: The information below is based on my best reading of the Whitepaper and the new UI launched on the site. If anything changes post-launch, this post will be updated.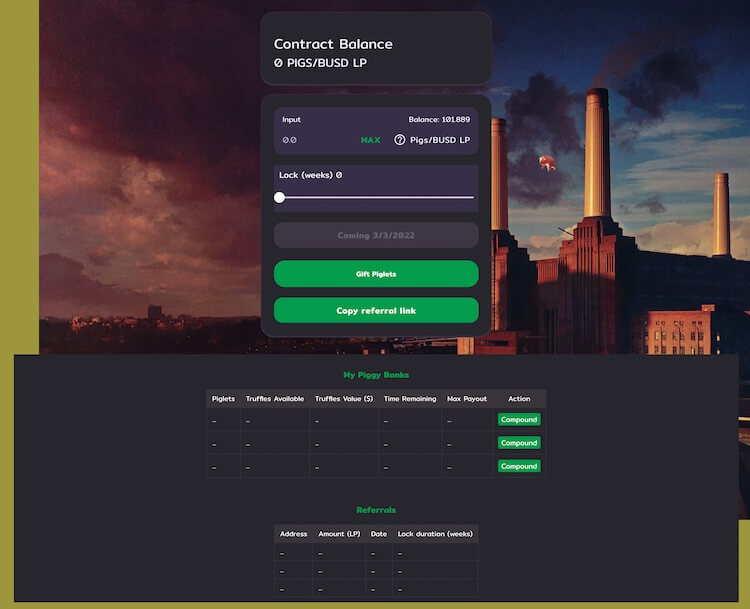 Why Do We Need the Piggy Bank?
Because the BUSD returns for the Pig Pen are bad. Drop $1000 bucks in it and you may receive $1-$2 a day.
And while all other Farms and Pools on the Animal Farm are returning nice percentages, the Pig Pen has not been very popular thus far.
This will probably get better when people move their PIGS over to the Pig Pen as there will be a less amount of people to divvy the claimable BUSD out to.
The Piggy Bank Explained
If this post is beneficial, consider using my referral link to the Piggy Bank. Much appreciated.
The high-level explanation is that you will be staking PIGS/BUSD LP tokens for an, up to, 3% daily return on investment. Let's dig in.
1. The Basics:
You deposit your PIGS/BUSD LP tokens to receive Piglets. This deposit is much like the DRIP Garden in that you do not get that initial investment back.
These Piglets produce up to 3% daily in truffles.
Again, much like the DRIP Garden you can choose to recompound those truffles or you can claim them (will be in LP tokens).
Now I know what you are thinking…."What makes this different from the DRIP garden??"
Glad you asked…

2. Time Locking Bonus: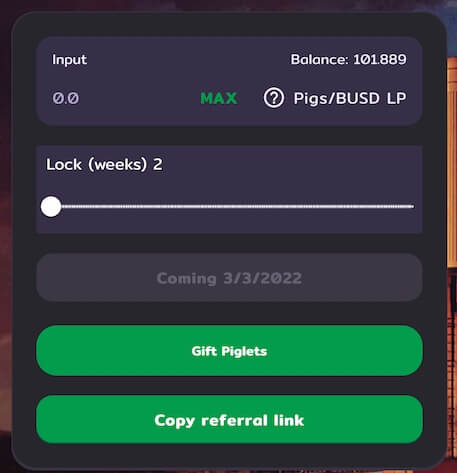 With the Piggy Bank, you can choose to lock your deposit up for a time period and receive a bonus percentage in addition to your 3%. This bonus will be greater with a larger time locking period.
What does this time locking mean, though? It means that you can't claim any rewards during this period. Remember, your initial deposit is gone. With time locking, you are disabling the ability to claim during that period of time and will (hopefully) be recompouding. Once the time-locking period is up, you're free to claim.
This bonus, or multiplier as the whitepaper calls it, is tacked onto your staked principle and not the claimable dividends at the end of the stake. This makes the reward bonus much, much more powerful.
In addition, this bonus is applied on a distribution curve with 30% of the multiplier bonus being applied to the first 75% of the length of the stake, and the rest being added to the last 25% of the lock-up.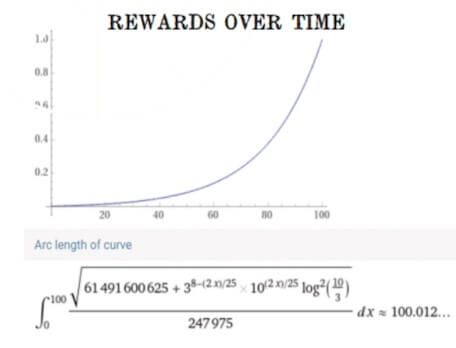 Which leads us to…. penalties
3. Penalties
If you end your stake early, you will lose 50% of your principal amount. This means if you deposit $1000 and are earning rewards on that $1000, if you unstake early you will be earning rewards going forward on only $500.
4. Referrals
Remember with DRIP you needed a certain number of BR34P tokens to receive referral rewards? Well, Piggy Bank referrals work similarly with DOGS. You'll need to have a number of DOGS staked in the DOGS pool to earn referral rewards (numbers below).
And remember when you got around to buying BR34P tokens they were probably expensive. They got that way because of the demand for referrals and the need to have that token to receive rewards. Expect DOGS to do the same. Get them cheap while you can.
And speaking of referrals, I do have a link if you wish to use it.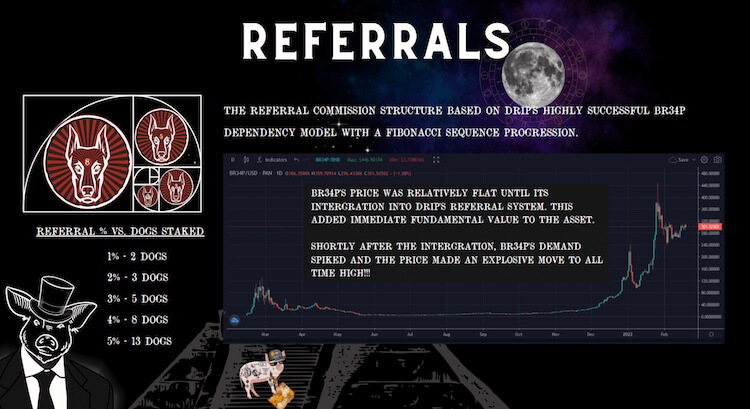 5. Multiple Stakes
Finally, you can have multiple stakes from the same wallet. This means you can invest different amounts of PIGS/BUSD LPs into different time locks. This allows users to create their own strategies.
And speaking of strategies…
My Strategy
My initial strategy is to take part in the multi-staking.
I plan to take my tokens and put:
25% into 2 weeks
25% into 1 month
25% into 3 months
25% into 6 months
I'm not quite comfortable staking out to a year (or 5 years!!).
How To Get PIGS/BUSD LP Tokens
Go to the Liquidity tab on the Animal Farm site and choose "Add Pigs LP." You'll want to add 50% PIGS and 50% BUSD. This will give you the PIGS/BUSD LP Tokens you'll need to deposit into the Piggy Bank.
Post-Launch Updates
3/4/22
Piggy Bank just launched. I went ahead and got in at these locks: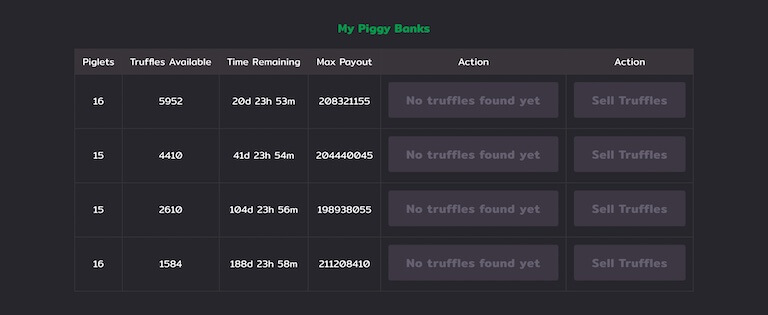 The process was smooth. After 24 hours I'll take a look to see what "Actions" are available as currently its grayed out. It was mentioned that you can compound only once every 24 hours so I assume that will be enabled after that amount of time has passed. Stay tuned for updates.
Conclusion
Again, that's my explanation of the Animal Farm based on the Whitepaper and the Piggy Bank user interface. It plans to launch tomorrow, 3/3/2022, at 11 am Eastern. Post-launch, if anything changes, I will update this post.
What's your strategy? Let's discuss below.
----------
** This article may contain affiliate links. Please read the affiliate disclaimer for more details.
You May Also Like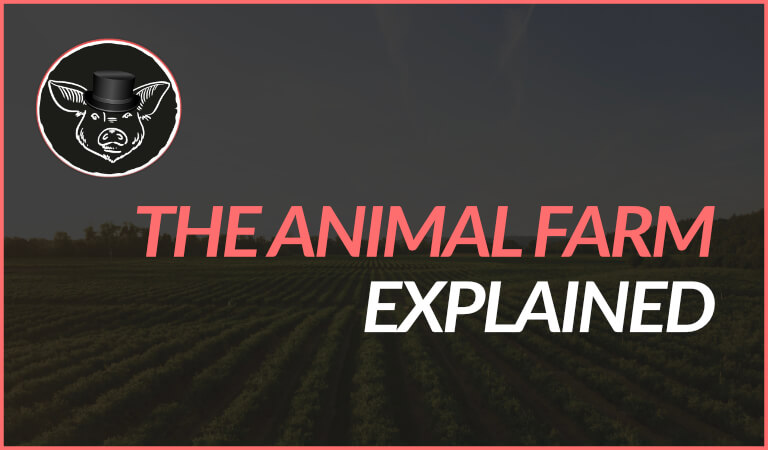 T
he Animal Farm, the latest crypto project from Forex Shark, is a …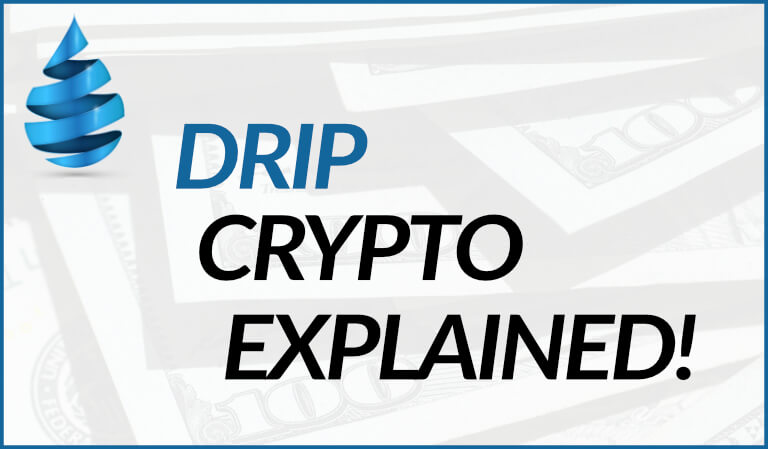 T
he Drip network, based on the Drip Token, is a community/investment …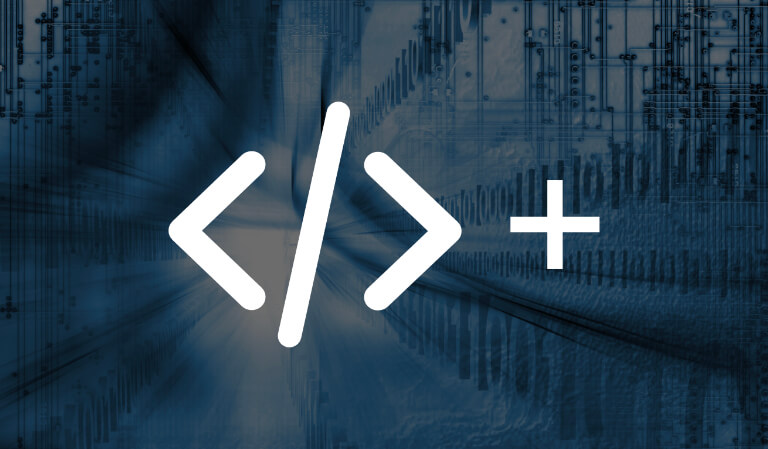 W
ith all the new technologies out there, being a developer in the …