Travis Media Coding Community
A Coding Community?
Learning to code in the self-taught route is HARD.
Sure there are lots of free or cheap resources out there, but that's not the problem.
The problem is staying motivated.
The problem is staying encouraged through the learning journey through to the job offer.
The problem is isolation and not being able to find accountability in other people during this time.
So I set out to fix it.
I wanted to help aspiring self-taught developers get to the finish line.
I wanted to surround you with community members and accountability partners that see you through to the finish line.
So I created a Coding Community to do just that.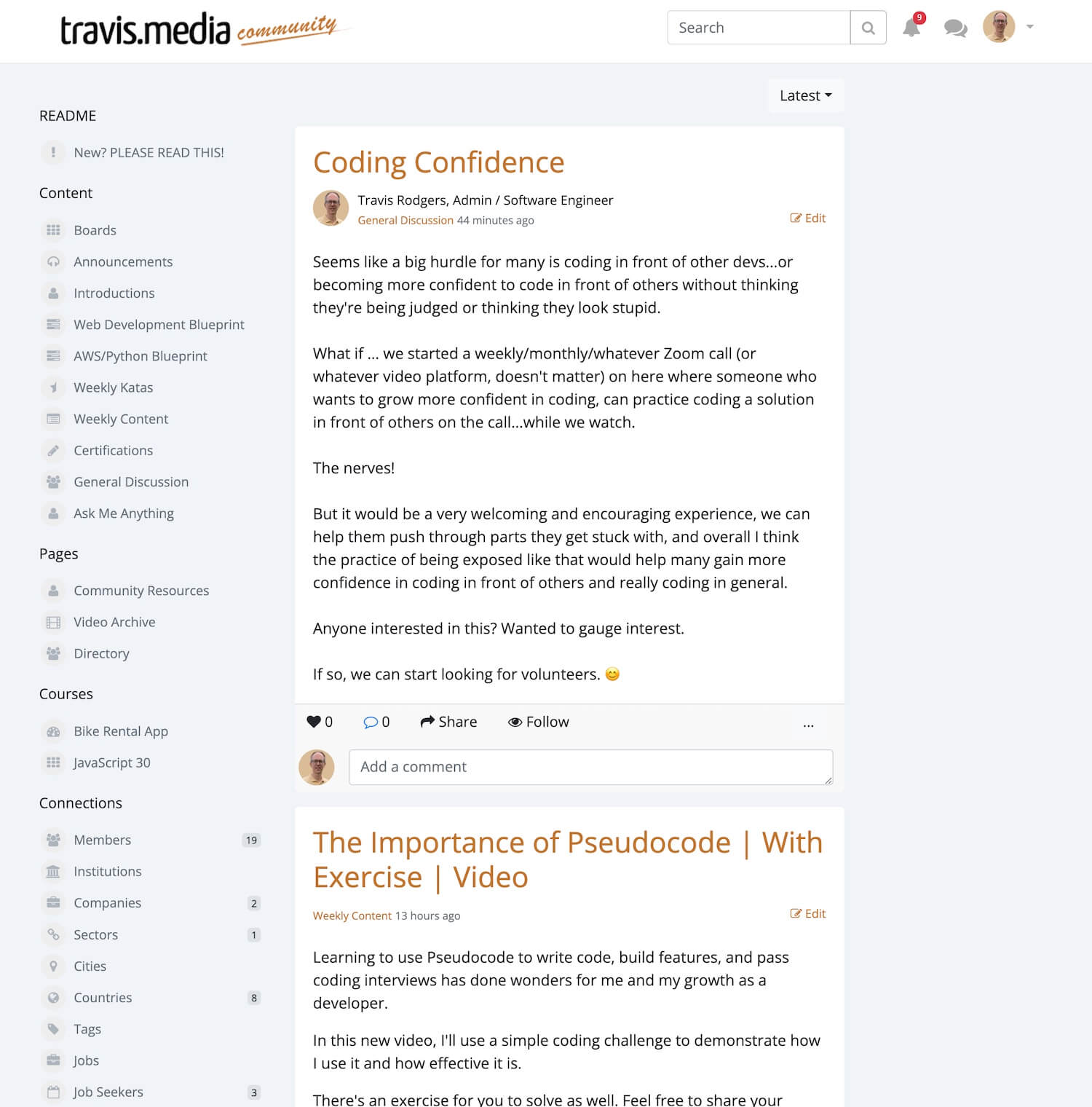 Its a community where aspiring developers and those looking to grow, can meet their goals, find encouragement and accountability NOT IN ISOLATION.
A few of the benefits:
Free access to all my courses and blueprints. Work through them together with other members (accountability)
Daily exclusive content created to help you in your coding journey both technically and practically
Community projects where we build apps together and collaborate via a professional GitHub workflow.
A directory where you can find other members in a similar stage as you with the ability to send DMs to link up
Weekly algorithm challenges and discussions to stay sharp
A list of books that we read together, week-by-week, with good discussion
Viewing of my prerelease YouTube videos before they go live
Working through code together, reading books together, and growing!
And more…
Every 10 posts or so I'll make one public. Here are a few examples:
You can't get this with Patreon.
You can't make sense of all the commotion on Discord.
You won't get a response from celebrity Udemy teachers.
Things are different here.
If that seems like what you need or what you'd benefit from, then here's a video walkthrough of the community (though I have to say things have evolved since).
Because we want members who are serious about growth and want to make an investment in their coding careers, the community is $15/month (two Starbucks lattes!).
Head on over and see what it's all about.