How the Grovemade Desk Pad Transformed My Home Office: A Review
I
just added the Grovemade desk pad and Grovemade desk shelf to my home office and couldn't be more impressed. In this post, I want to share why a desk pad such as Grovemade's makes a difference and how it transformed my home office.
---
Quick Nav
It's not just a desk pad.
It's a vibe.
A temperature.
An experience.
A boundary for being productive.
And it sure beats the $5 IKEA cork mat that I was using prior to upgrading to the Grovemade desk pad.
We spend countless hours in our home office, especially since many of us now work from home, full-time.
So having an optimal and enjoyable setup is vital to your health and well-being.
Watch the Video?
Before we get started, if you prefer video, checkout my 2021 home office makeover that includes the Grovemade desk mat and desk shelf.

Otherwise, continue reading.
My Grovemade Desk Pad Pick
I chose the extra large wool felt desk pad for my workspace. There are, of course, other sizes: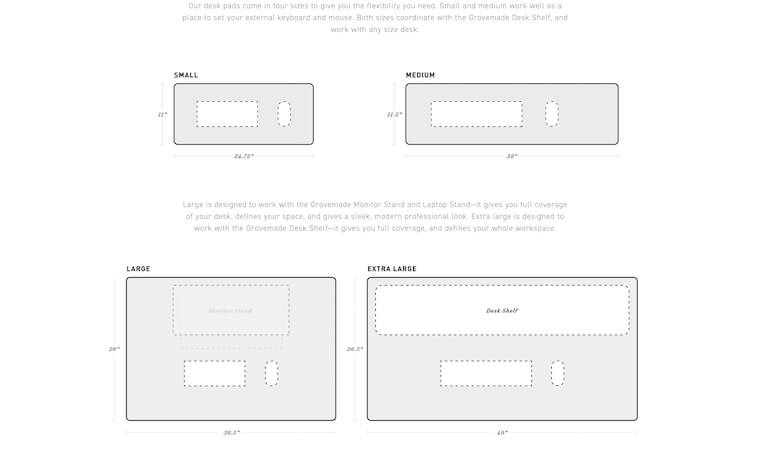 I chose extra large because I wanted the bulk of my desk covered. Also, because I have the Grovemade desk shelf it only makes sense to have that resting on top of a desk pad.
You, on the other hand, may only want a dedicated pad for your mouse and keyboard or perhaps a little bigger to include your laptop or monitor.
In addition to the size, I chose the wool felt pad. The other two options, premium leather (Wickett & Craig Premium Vegetable-Tanned American Leather) and matte (natural linoleum made from linseed oil, pine rosin, wood flour and calcium carbonate), are high quality but just didn't fit what I was looking for in my office. There's also a tan desk pad in the leather option.
The Grovemade desk pad is made of premium 3mm thick virgin Merino wool felt. It's soft. It's warm. And if you're wondering as I was before owning it, it's not itchy 😁.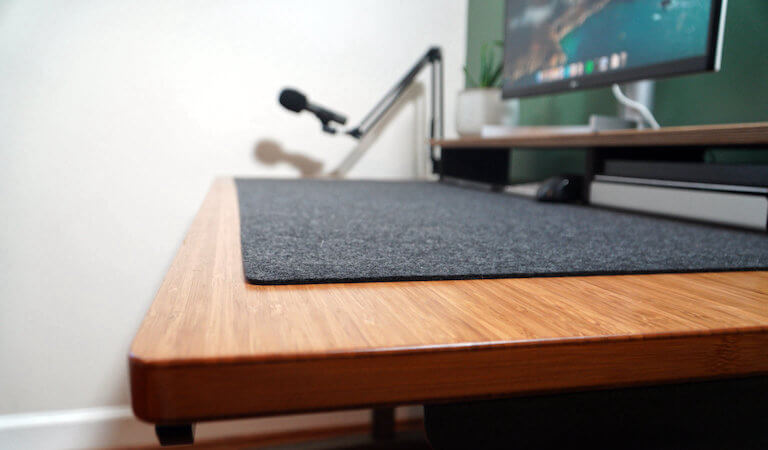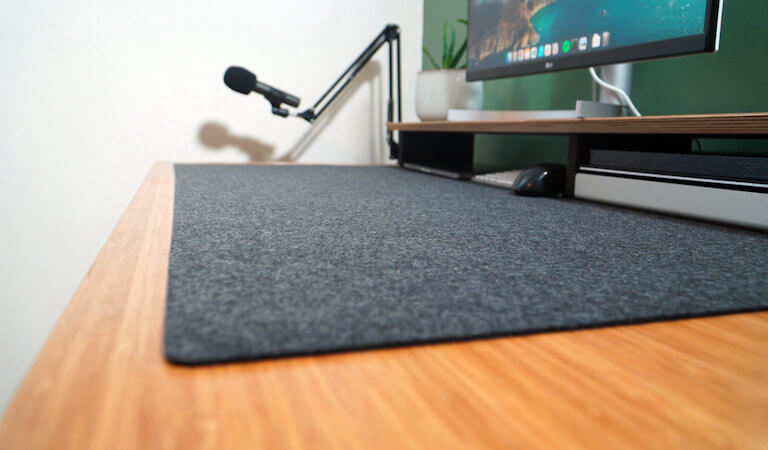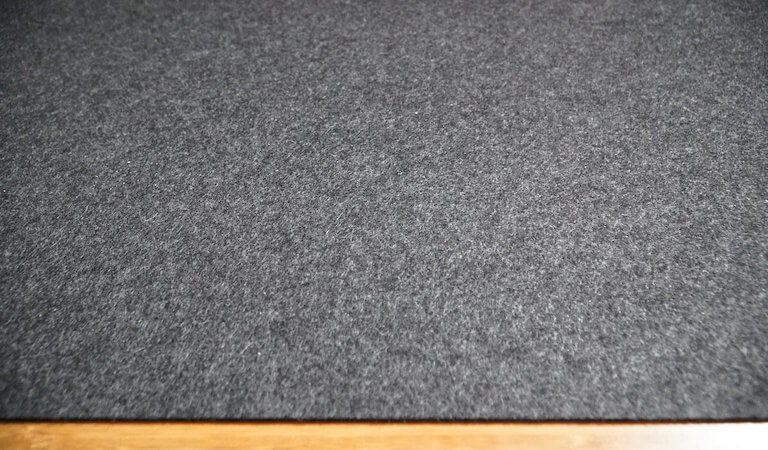 It also works great with my optical mouse.
Whatever style you choose, I think you'll find the Grovemade brand about as good as you can get.
Here are some reasons why.
3 reasons to choose the Grovemade desk pad for your home office:
1. Warmth
A wooden desk is a cold place. When you approach it in the mornings and put your arms on its surface, it's not inviting.
This may sound petty, but it's true. Remember, you're spending 40 hours a week here.
I love my Uplift desk with its 60 x 30 bamboo surface and adding the wool over most of it has created an inviting warmth that I look forward to pulling my chair up to in the mornings.
See the difference: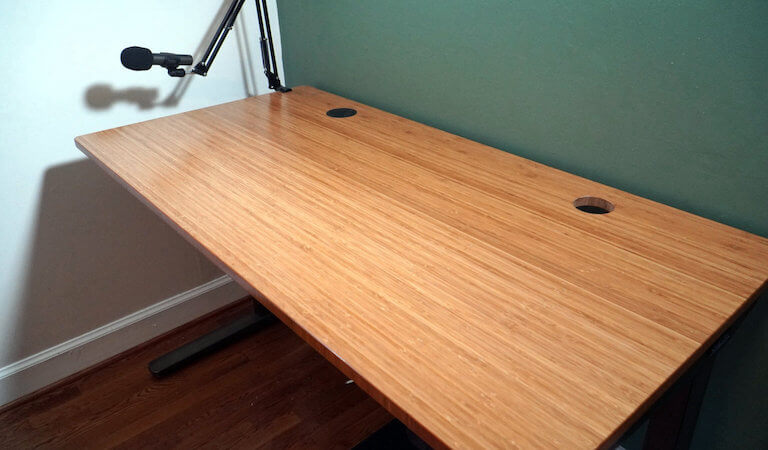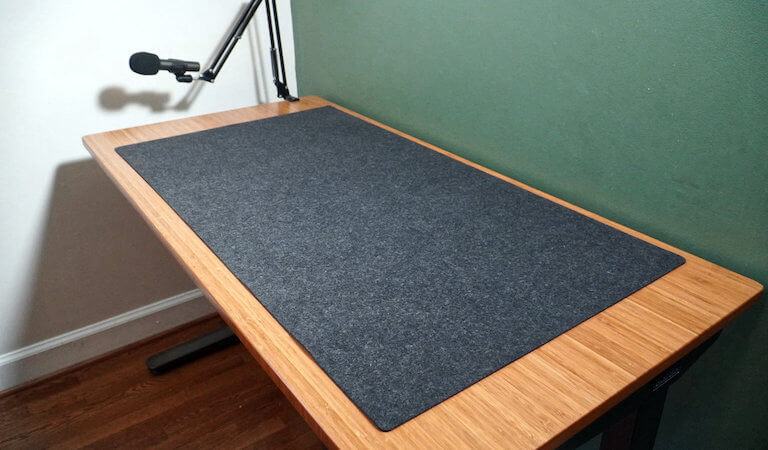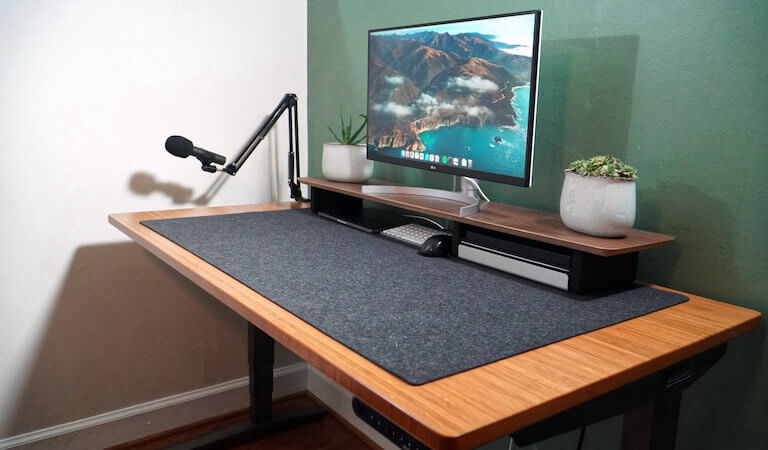 2. Targeted Coverage
One benefit of desk pads is that they give you a targeted space for items, a boundary with permissions to work.
The small/medium desk pad gives you a dedicated space for your mouse and keyboard to live. The large adds room for your monitor.
I chose the extra large size for the purposes of having a wide open, edgeless space to work. It fits my mouse, keyboard, arms, journals/notebooks, and whatever else I'm specifically working with at that moment.
To me, small desk pads are limited in that you have to keep moving the items back to the middle so that you don't go off the edge. That edge is a limit.
And I don't want limits.
3. Aesthetic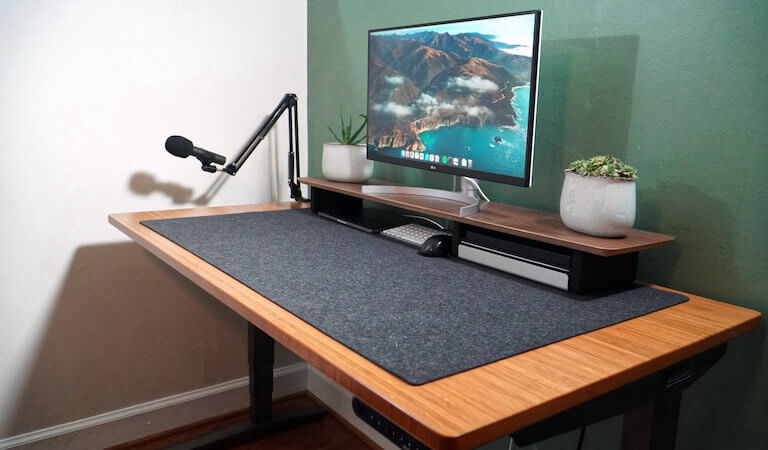 Finally, the contrast of the dark wool with my lighter bamboo desk just looks great and adds complementary contrast. My Grovemade desk shelf is darker than my desk so it helps break up that difference.
If your desk looks blah, then definitely try adding a desk pad. If "desk pad" sounds boring just add a nice condition before it like, gaming desk pad or productive desk pad, or desk sweater 😆!
Other Grovemade Products
In addition to desk pads, Grovemade has many other desk accessories that I would recommend from desk mouse pads to wall shelves to headphone stands (unique!) and even accessories that fit the Apple Trackpad and Keyboard.
All of it can be found on their site.
Some of it can seem a bit pricey, but you have to take into account the quality, the fact that it's handmade by real people, and the uniqueness of the products.
Conclusion
Again, I've seen great reviews of the leather and matte pads. They may better float your boat.
But if you're looking to add warmth to that cold desk and don't want a leather smell (it goes away I'm sure) or fancy linoleum, look no further than the wool felt desk pad by Grovemade, which in my opinion is one of the best desk pads.
You can pick it up here. And the desk shelf compliments it well.
Let me know if you have any questions about the computer desk pad or desk shelf below, I'll do my best to answer.
----------
** This article may contain affiliate links. Please read the affiliate disclaimer for more details.
You May Also Like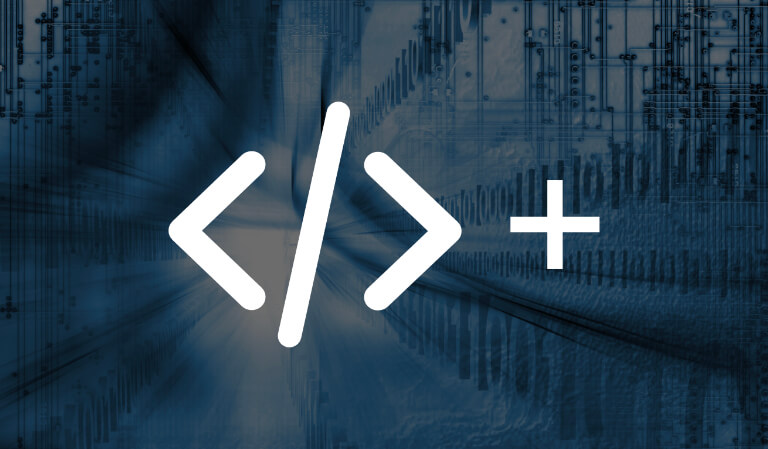 W
ith all the new technologies out there, being a developer in the …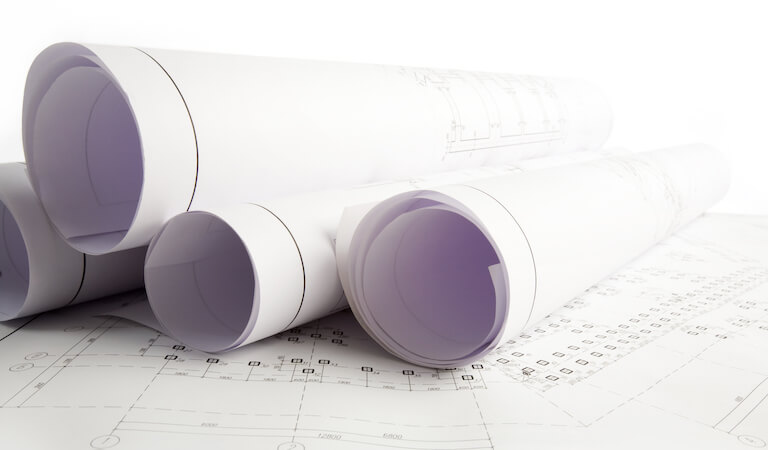 If I was learning to code again and wanted to compile a reasonable …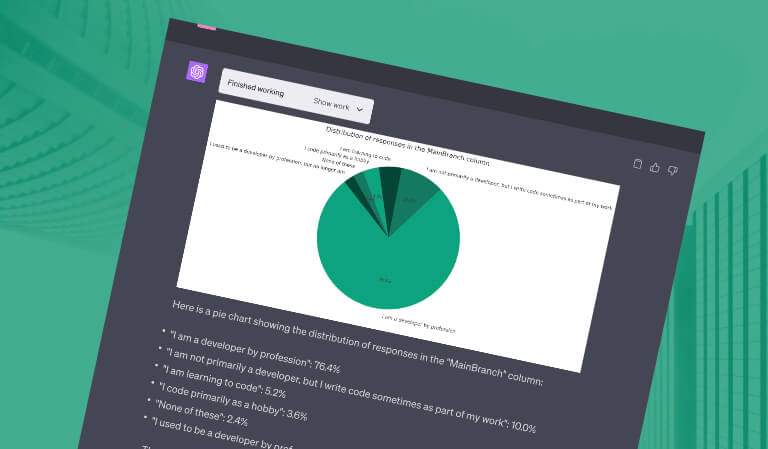 T
he ChatGPT Code Interpreter plugin was announced on July 6, 2023 and …